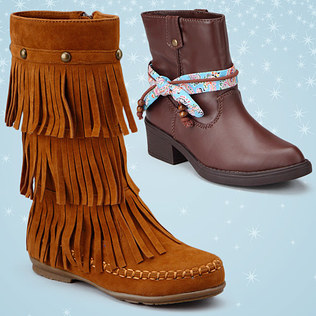 Zulily is having a great sale on girls boots right now. They're offering up to 55% off and have tons of styles available!  The boots pictured above are only $18. Hurry! Sizes sale out fast :)!
Here's how to get this deal:
Sign up for Zulily. It's completely free! (If you're already signed up move to the next step.)
Click this Zulily link, it will take you to today's deals.  This offer is right on the front page :)!
Shipping Tip: You will pay shipping but if you pay shipping on any item today, you get free shipping the rest of the day. I payed for one item and shipping to get my free shipping for the day (The free shipping only works on the same day you ordered your first item). I then went back and shopped for everything else I wanted and received free shipping on all of it.  I saved a ton on shipping